Swimming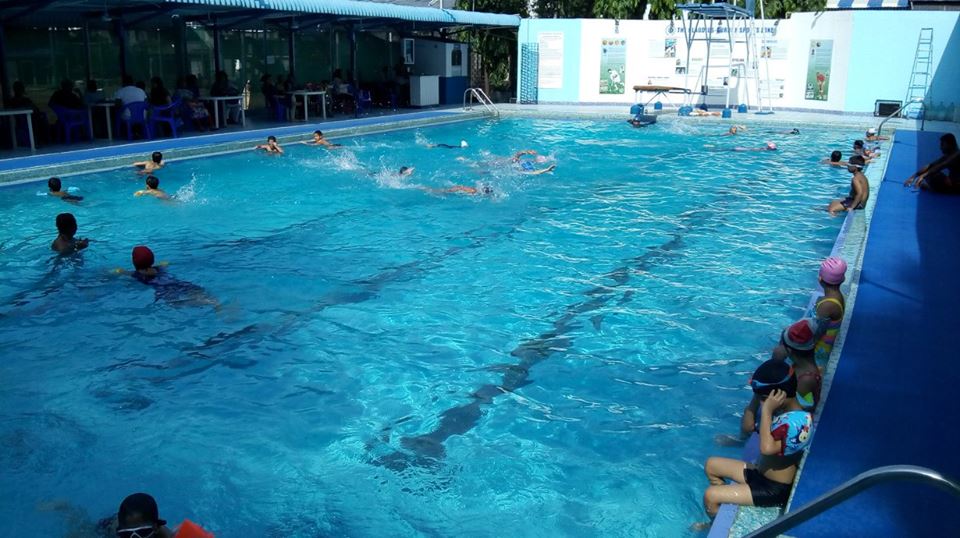 Pool Timings –  6.00 am to 9.30 pm all days 
Guest Charges-  Weekdays (Monday, Wednesday, Thursday) Rs. 75/- (upto 10 years),Rs.150/- (above 10 years). Weekends (Friday, Saturday, Sunday & Holidays) Rs. 100/- (upto 10 years). Rs. 200/- (above 10 years). 
Rules & Regulations: 
Children under the age of 18 years will be permitted to use the swimming pool or remain in the vicinity of the pool,between 6.00-10.00 am and 12.30 to 9.00 pm only.  provided they are accompanied by their parents or guardian members. 
All Bathers must use the shower bath and foot bath  before entering the swimming pool
All bathers must wear only such bathing costumes as are in generally accepted use.Bathing caps must be worn by persons with long hair irrespective of age or sex without exception.
Bathers are not allowed to move outside the swimming pool area whilst wearing bathing attire. 
Only one person at a time may use or be on spring board. Diving is permitted only from the spring board erected for this purpose. Any misuse of these or any other structures in the swimming pool by a member or his guest will render the member concerned liable to suspension or expulsion. 
Ayahs or Nannies will not be permitted in the vicinity of the pool.
Members and their guests should not use the swimming pool if suffering from any skin disease(including severe cases of prickly heat) or other infectious diseases. 
Babies under 18 months must not be taken into the pool and even the paddling pool.
Members should sign the register (Mandatory)
Members should sign for their guests (Mandatory)
Members & Guests are requested to take care of their belongings at their own risk.

Advanced Swimming Camp For Members
Timings- Monday, Wednesday , Friday 6.30pm- 8.00pm half pool. Saturday 4.00pm – 5.30 pm full pool and Sunday 4.00pm – 5.30 pm half pool 
Charges- Rs. 1650/- per month.
Summer Swimming Camp
This one month camp is held once a year during the summer holidays from 15 May to 15 June,
Days & Timings-  Monday,Wednesday, Thursday,Friday
Morning Session- 8.00 am -9.00 am, 9.00 am – 10.00 am, 10.00 am – 11.00 am 
Evening Session- 3.00 pm – 4,00 pm
Age- 5+ to 18 years
Height- Minimum 48 inch
Requirements – Fill in admission form available at club office along with 2 stamp size recent photographs and age proof.
Charges-  Member (special subsidized rate) Rs. 900/- Non Member Rs. 5000/- (applicable GST 18% added)